Livemocha was launched in 2007. They offer varieties of languages from all over the world. According to them "the Livemocha community has grown to over 16 million members from over 195 countries". 
Frankly speaking, the numbers aren't important because it's not like all of them are active, though. However, it's still good because you have plenty of language partners to choose from. All you have to do is find the active one.
You can practice and submit your exercises and audios and basically, anyone (native speaker or user that speaks the particular language) will leave their review on it. They'll review it in terms of spelling, grammar, and vocabulary.
Back in 2009, Livemocha had this feature where users can send chat requests (like Skype) to other users of a particular language you learned and exchanged knowledge as well as getting to know more of that language from the native speaker themselves.
However, they don't have that feature anymore, but you can still text and send messages to a native speaker. Nowadays, Livemocha has a new look and the website somehow looks well-organized which is good.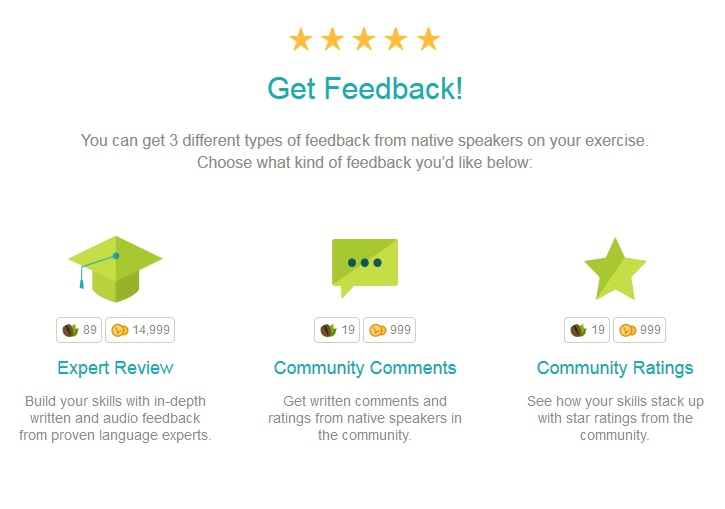 When you finish your courses at each level you'll earn points (the yellow icon) which you can use to buy courses and get 3 types of feedback as shown in the picture.
Feedback is important because when you submitted your exercises you want someone to review them to know if there is a mistake and this can improve your learning. It's like submitting your work to your teacher.
You can submit your exercises in written and audio.
Get 3 types of feedback of your choice.
The new Livemocha has included few grammars in their courses rather than just vocabulary like the old Livemocha had.
Usually it takes up to 2-3 days (in my case) and might longer than that to get a review on your exercises. However, it depends on the type of feedback you want. Both community comments and ratings are faster though.
The only problem with community review is there are some of them that reply with just "Very good", "Keep practicing", Keep up the good work" and so on and so forth. They don't even bother to elaborate on the mistake(s).
In my opinion, they should at least explain it in terms of grammar and spelling for written exercises rather than just correcting it and leave the learner hanging. The same goes for submitting audio speaking exercises; they can record the right pronunciation for it and submit it so the learner knows not to repeat the same mistake.
But again there are also some that leave a perfect review with both I've mentioned above so I applaud them for that!
You know how certain languages like Spanish, Arabic, Korean, Chinese, etc have special alphabet characters and when doing written exercises, Livemocha doesn't provide that. It's quite difficult which sometimes native speakers pointed that mistakes in their reviews.
Ever since Rosetta Stone bought Livemocha in 2013 the good things the old Livemocha used to have has completely been removed. For instance, the ability for both community and native speakers to submit reply audio for speaking exercises has been disabled. 
Not to mention also the chat request. Sadly, some users made the old Livemocha "just another dating site" because of the chat request feature.
I personally experienced that when I accepted a chat request. What I do first before accepting was checking their profile to know what language they speak and what language they want to learn and if they don't have what I needed then I just rejected the request.
However, to my surprise when I accepted the request that has what I needed it turned out they "simply" just want to chat.
My conclusion is if you are looking to learn a new language just for fun then you can use Livemocha. However, if your target is fluency, then I suggest you find another website that is much better than Livemocha.
If there are things I forgot to mention kindly comment below. I highly appreciate that.
#UPDATE:

Livemocha is officially closed on Friday, April 22, 2016. Read more about it HERE.