I've been continuously searching for a course to enhance and diversify my learning Spanish journey and stumbled upon this awesome course. It's been almost a week since I use it and I thought it would be great to share it with you all. In this Kerapido review, I'll write about its contents and who it is for.
It's a free Spanish online course created by Maria Fernandez, a native Spanish teacher. Her aim in creating this course is to make learning Spanish easier by using a proven technique that works. She herself is a language learner and the method and technique she uses in this course is what she uses when learning other languages and recommends her students to do the same.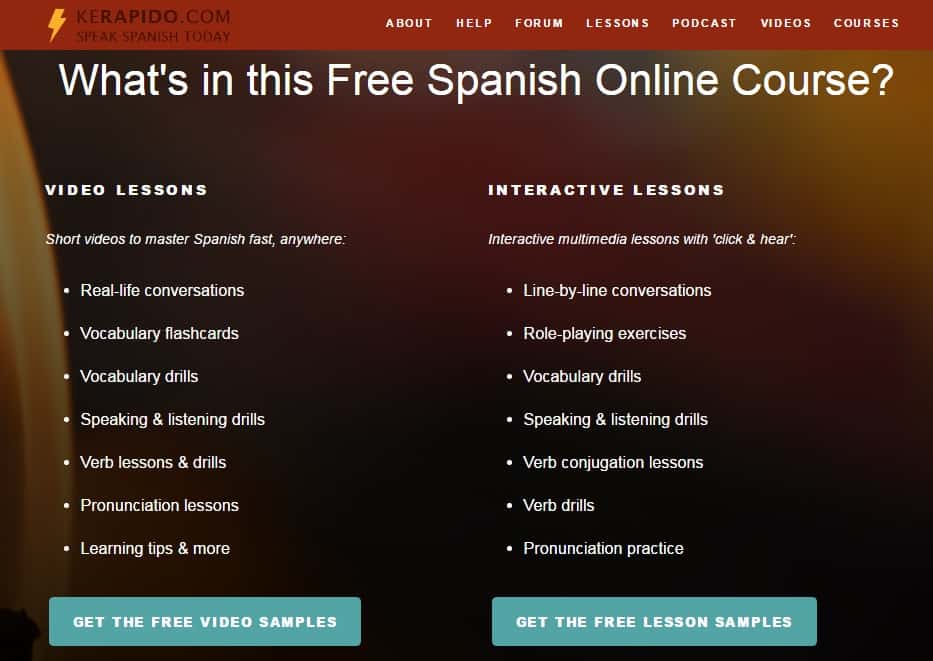 In this free course, she teaches more than just learning new vocabulary. She started by giving language tips. The tips she gives are superb. One thing that stuck in my head is when she says
"If other people can't understand the word you're saying, what's the point of saying anything"
I completely agree with her on that. I said this in my previous post, if your grammar isn't that good, at least make an effort to polish your accent.
From then on, the lesson goes from Spanish conversation, vocabulary, speaking practice, verbs, grammar, pronunciation, numbers, podcast lessons, and motivation corner.
Each course has 2 versions, a video, and a video transcript. This is good because it gives people the option to choose. We all have our own learning style, as for me I'm both an auditory and visual learner but more to the latter. Plus, it's a great alternative for those who don't have Wi-Fi.
Another great thing is, she provides you with 2 options. Either you choose to watch the video lesson or the interactive lesson. You can even do both if you want.
After finishing each lesson, click on the mark as complete button. If you like what she presented in the video, click on the favorite button.
In each lesson, she gives pronunciation tips for each word shown in the video. Such as how the letter E is pronounced in Spanish, the differences between the Spanish sound of E, and an English sound of E and much more. She encourages you to speak the Spanish language from day one via role-playing exercises.
If you're like me who's often confused about the gender assignment, worry no more as she explains about this and much more in simple English. Some of the lessons are still in progress.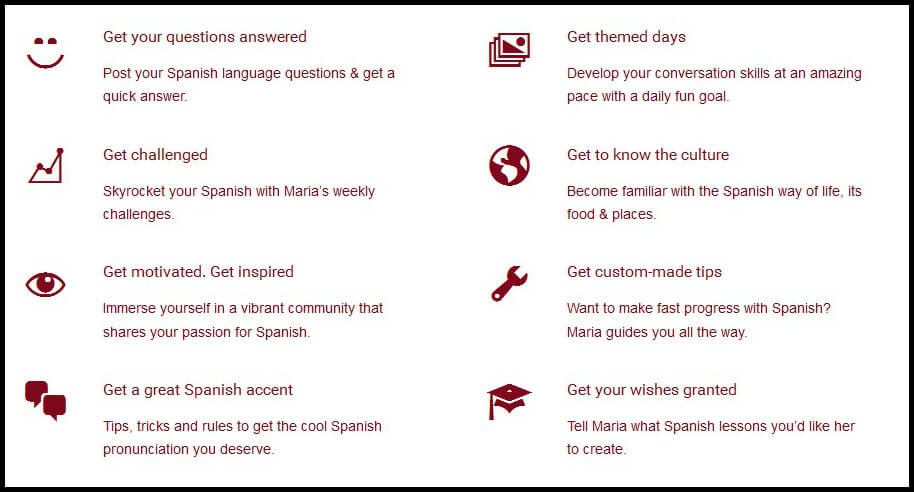 It also has a spam-free forum. As soon as you finished each course and have questions, you can post them in the forum and the owner herself will reply to it 48 hours from Monday to Friday. You can also ask Maria to listen to your pronunciation via audio and get feedback on how to improve it.
However, the forum isn't free. You have to pay $25 monthly to access it. In case you're not satisfied with it, they also have a 30-day money-back guarantee. Click the forum Terms of Use to know more.
These sections by far are the most awesome in the course. Maria talks about lots of useful stuff related to the Spanish language ranging from tips and hacks on how to improve your Spanish accent, how to master the Spanish preposition A, 5 very common Spanish idioms, how to roll your R in Spanish, the secret of how to learn Spanish fast to how to master speaking Spanish and much more.
Apart from the free course, she also has the paid book and audio pack course which cost $29.99. It comes with a 30-day money-back guarantee. The course consists of:-
306-page book (pdf)
5 hours of audio recordings
Dozens of real-life conversations
Vocabulary flashcards & drills
Listening & speaking drills
Easy verb practice
Reading & writing exercises
Easy grammar lessons
Pronunciation lessons & drills
Spanish learning tips
Bonus: 15 audio lessons (4.5 hours)
It covers conversation, vocabulary, speaking and listening drill, pronunciation, building sentences, etc. Among the list of topics she covers are accommodation, shopping, numbers, time & dates, directions, and much more. You can read more about the paid version here.
In conclusion, if you're not a beginner in Spanish, the course is not going to help you much in getting you to the next level. As of writing this post, everything in Kerapido is pretty much just the basic things. However, you may want to give it a try at her podcasts. It's suitable for all regardless of their level in Spanish. She gives a plethora of valuable tips there.
The price for the paid version is also affordable. As always, I recommend you to try the free version first (click on subscribe to my free Spanish course button to register) before jumping to the paid version and see if it suits your need. Let me know how your experience is using Kerapido in the comment below.