Listening to podcasts is another way to improve your listening and speaking skills. You get to learn things you won't find in textbooks and know stories you've never heard before. These are authentic materials.
Below you'll find the 9 best Spanish podcasts in no particular order. What I put in the beginner and intermediate labels doesn't mean it's only for that level. You'll also find out what these podcasts are about, the length, where to get the transcripts, and much more.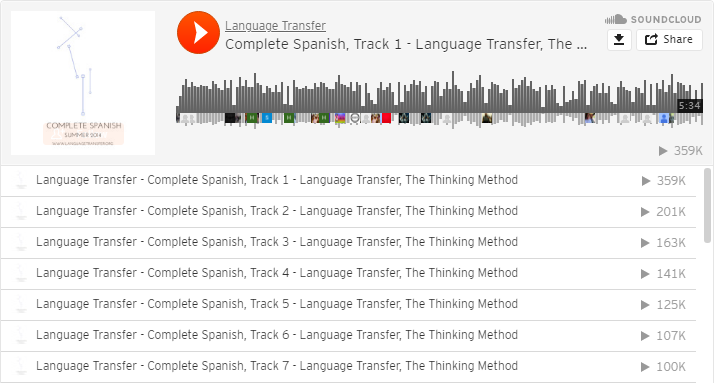 LT is a bit different from the others where it doesn't require you to do anything but think. The concept is to see how fast your brain can pick up the language with the knowledge you already have or know from other languages such as English.
It's perfect for beginners because it centers around the language alone. If you're the curious type always wanting to know why they are structured the way they are, the origin of certain words, etc, start with this. You can complement LT with other tools you're using. You'll be learning Latin American Spanish.
What I like is that I have to use my brain (active recall) constantly. There's no room for memorization because all I need to do is try to understand the technical aspects. Two of the many pieces of advice given in the podcast that stuck to my head are 'you'll carry around your new language in your head, not in a notebook' and 'think slowly to learn quickly'
It's mostly in English. There are 2 people in the podcast, a male teacher and a female student. He asks her how to say this and that in Spanish (pause and answer yourself before listening to her answers) then proceeds to explain the grammar and/ or reasons behind it.
It's only 10 to 15 minutes long some are even less. You won't find any transcripts. As said on the website
'Just engage, pause, think and answer out loud, the rest will take care of itself!'
CBS has podcasts for every level (beginner, lower/ upper-intermediate, and advanced). They kindly state the objectives for each so learners know what they would be able to achieve. With CBS, you would build your vocab and grammar understanding step by step.
Even though the teacher, Mark (from Scotland), teaches Spanish from Spain he will also explain the difference in terms of pronunciation.
Each level which is named 'season' has 40 audios. The length varies from season to season. To get the bonus materials that include the video version with transcripts, comprehensive lesson notes, etc you'll have to pay.
Seasons 1 and 2 are mostly in English. Season 3 is both English and Spanish while season 4 is mainly in Spanish with a bit of English in between. The content is slightly different for each level.
This podcast has been around for years. What I like about it right off the bat is they are categorized by level from beginner to advanced so you don't have to guess. Each episode has a different topic. The host, Ben and Marina talk about their lives in Madrid, things about Spain, etc. The Spanish taught here is from Spain.
Most of them are less than 30 minutes. I don't feel overwhelmed when listening simply because it's bite-sized, doable, and done in a relaxed manner.
At the beginner level, they talk both in English and Spanish but when it comes to the dialogue it's done in complete Spanish. Before starting they usually do a short review on the previous episode just to 'refresh the memory'.
You can expect to learn a few related vocabulary and colloquial words along the way. If you want to learn street Spanish words and phrases, they have that as well. As they say on their website
"We bring you real Spanish conversations on real-life topics, making you totally confident with your Spanish."
However, in the intermediate and advanced levels, it's 100% in Spanish and there's no short review. Apart from the audio they also provided worksheets (which you have to pay) that consists of the full transcripts, translations, grammar notes, exercises, etc.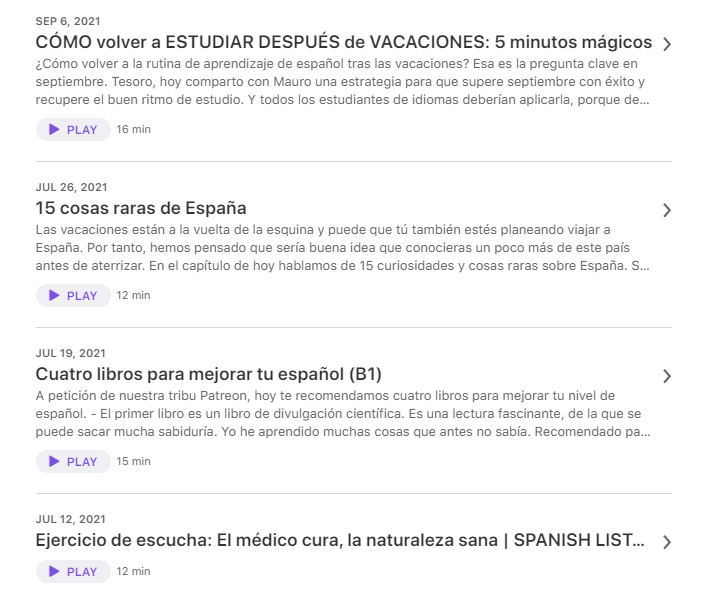 It's said that this will benefit intermediate and advanced learners. Karo Martínez discusses a variety of things such as language learning in general (practical tips, study technic, methods, strategies, grammar, ways to improve your accent, etc), idioms, expressions, Spanish cultures, and so on. Just like NIS above you'll learn Spanish from Spain.
They used to categorize all the episodes they have done so far by year. Unfortunately, it's not there anymore. Needless to say, it is as exciting as it is frustrating.
Some topics are mostly under 20 minutes and only a few are 40 minutes and above. Just listen and focus because there's no English. Should you find difficulty following you can get the transcripts and worksheets for free on their website (send by email).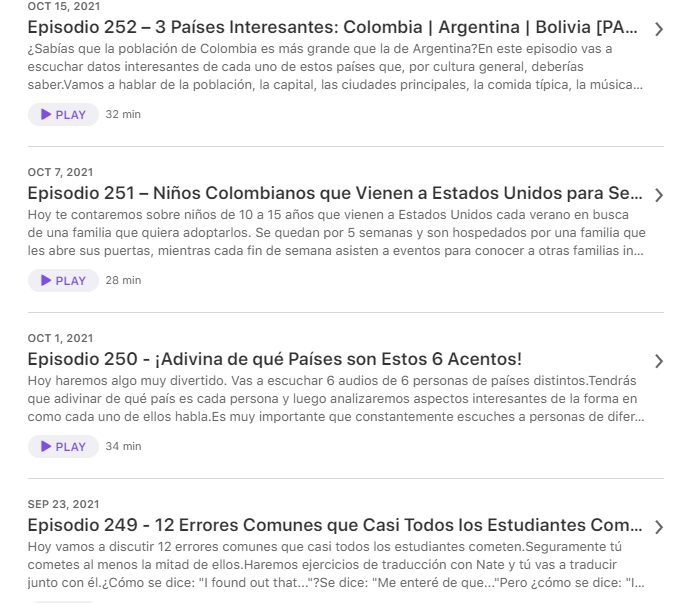 This is a conversational podcast hosted by Andrea (Colombia) and Nate (US). Nate is also learning Spanish and during the podcasts, you can hear Andrea corrects his mistakes. If you want to take your Spanish from intermediate to advanced you may want to start with this.
They cover a wide range of topics from education, tourism, sports, entertainment, and important figures (Mother Theresa, Abraham Lincoln, Nelson Mandela, etc), to even controversial topics (abortion, racism, etc). You'll be learning Latin American Spanish.
Their conversations about whatever topic they choose are so interesting that I don't mind the length and doing the infinite scroll at all. The only drawback is they don't categorize their podcasts. I don't know which episode for the advanced learners starts. The same case for Español Automático.
It's completely in Spanish. The length ranges from 22 minutes up to almost 40 minutes long. You can either get the transcripts on their website on the individual page (send by email) or make a donation and get all at once.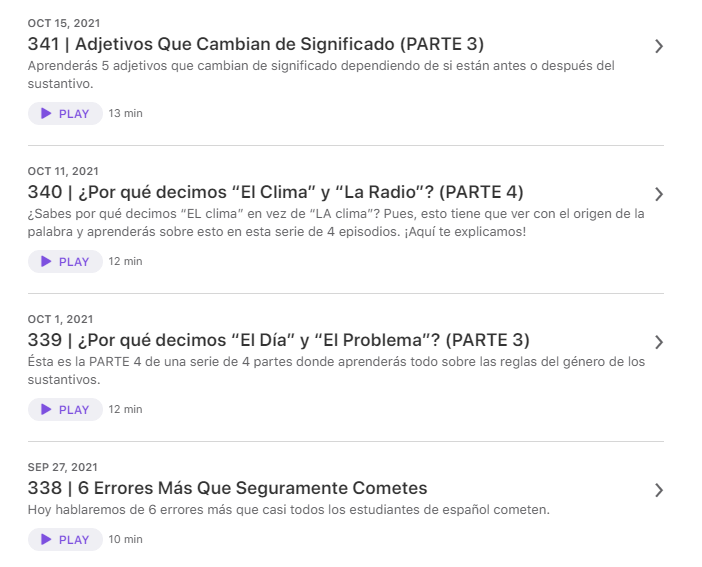 The creator of Spanishland School is the same as Españolistos but this time the only host is Andrea. She is a Spanish teacher who specializes in linguistics. The main target is intermediate and advanced learners.
This podcast focuses particularly on the Spanish language such as grammar, vocabulary, mistakes made by students, expressions, learning habits, etc. You'll learn things that will make you sound like a native.
They are short and concise. I've learned a lot from just one short podcast. We all know grammar is one of the hardest but she makes learning the rules looks easy.
It's 99% in Spanish. At the moment of writing, there's no way of getting the transcripts so you're going to have to make your own notes while listening. Luckily, you can get the PDF (send by email) for grammar-focused episodes.
The podcasts are less than 15 minutes though some are longer but not more than 20 minutes. The speed is perfect but advanced learners may find it a bit slow.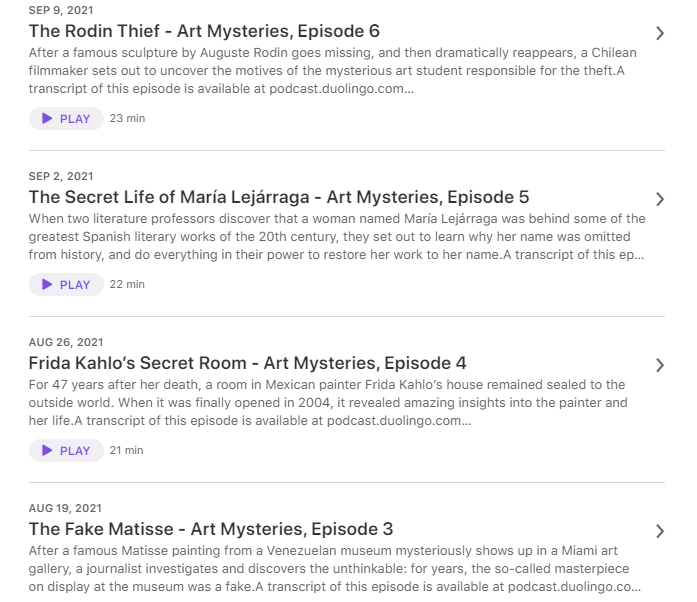 It's good for intermediate learners. It features true-life stories from people of Spanish-speaking countries (mostly Latin American).
What I like about this type of podcast is without a doubt, the stories. They are truly worth listening to. The same goes for the next podcast. To know what's happening out there in the Spanish-speaking world through them is fascinating.
It's done in English and Spanish. The storyteller will speak in Spanish at a moderate speed. They are 20 to 40 minutes long. Occasionally, the host, Marina Castro will pick up some Spanish words and translate the meaning into English.
Also, in the beginning, she lets us know where the speakers come from and tells us the difference in pronunciation of certain letters. You can find the respective transcripts on their website.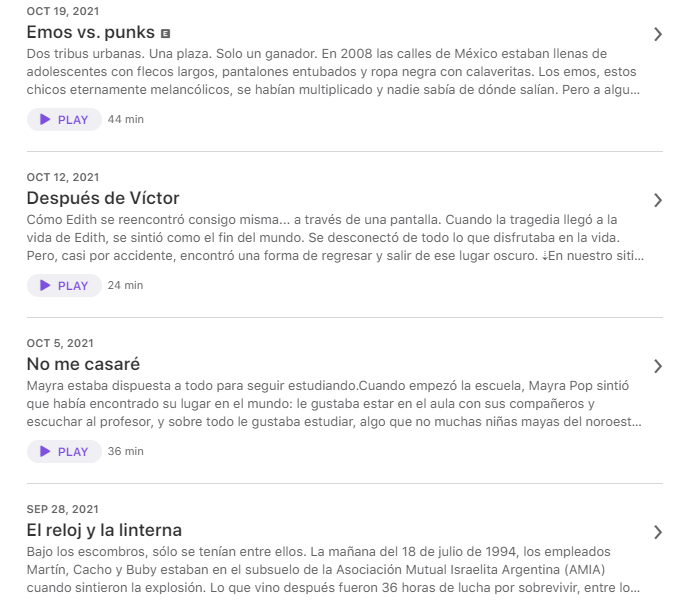 It's a 'long-form audio journalism' that tells the story of Latin American people you won't see much being reported out there. They cover social and cultural issues. This podcast is for intermediate learners, preferably upper-intermediate.
It's like listening to an interview (totally in Spanish) where it switches between the narrator, the storyteller, and the people involved in that story with background music from time to time. There's also a brief ad in the middle. You can find the transcripts on the website.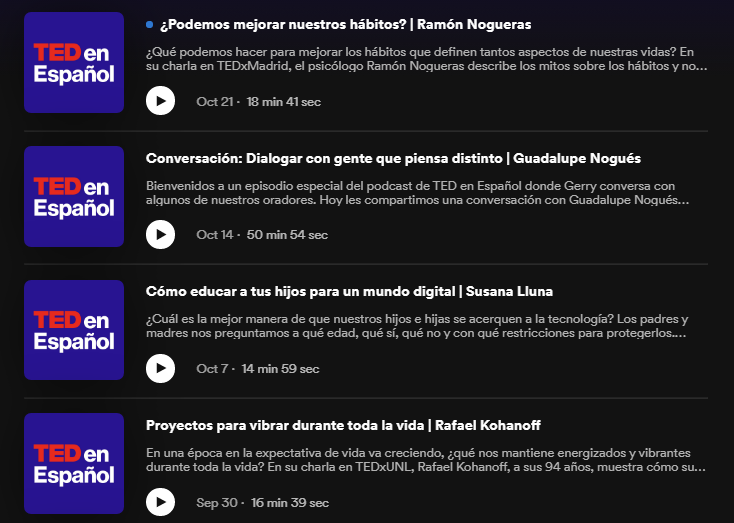 This is ideal for advanced learners (maybe for upper intermediate too). Well, as you can expect from TED talks it covers provocative ideas, new ways of thinking, incredible stories, and a lot more. You'll be hearing Spanish from Spain.
There are no transcripts and worksheets given because obviously, it's not the type of podcast that's designed with Spanish learners in mind. As an advanced learner, just sit back, enjoy and get your pen and notebook ready in case you feel like noting down new vocabulary. The length varies from 10 minutes up to 60 minutes long.
So, what do you think of the lists? Let us know in the comment your go-to podcast.