Finally, I get to write this very interesting topic regarding the use of subtitles which has been the major reason I started learning a foreign language. Since I'm learning Spanish I'll be using that as an example throughout this post.
If you've been wondering are subtitles helpful for language learning the answer is yes. In fact, not just for normal people in general but also for people with disabilities such as deaf people. Here's an interesting article you might want to read. It's written by Noa Talavan called Using Subtitles To Enhance Foreign Language Learning.
Depending on what level you are in the subtitles you use can be different and each stage has its own pros and cons. Below are the 3 steps you can use them. Do these slowly and take as much time you need.
Use English subtitles in Spanish shows
Use Spanish subtitles in Spanish shows
Turn off when you no longer need them
I know it can be quite difficult to have your native language subs on everything you watch especially if your language isn't that popular like mine. For this, I suggest using English subs or a language you know well.
I prefer the former because back then when I was learning English I can still enjoy what I was watching despite my lack of vocabulary. Even if you only understand 30% of the story it's still progress. You just have to change your mindset and shift your focus on something else like the accent, the intonation, etc.
What Subtitles To Use For Newbies?
In my opinion, it's better to use L1. They might have trouble understanding if they use L2 right away. If they already know the basics of the target language then L2 can definitely help.

Take a look at Rick Denison's recommendation above. Mine is the second one with Spanish. What's yours?
During my childhood, I used to watch shows in my native subs with the original audio. As I grew up I no longer need them to watch English-speaking movies & series. Given the fact that my English was pretty much 'broken', I can understand them just fine.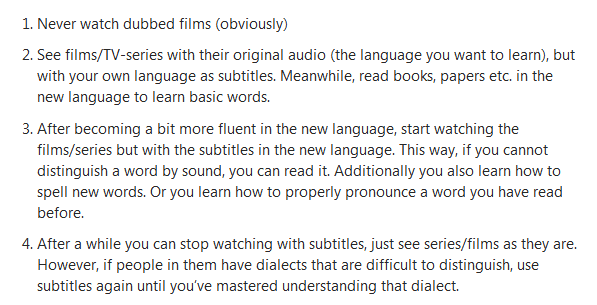 I'm inclined to what Martin Ekman suggested, though I haven't really tried using Spanish subs that much.
Can You Learn A Language By Watching Movies With Subtitles?
Yes, you can. To what extent? Well, you won't reach fluency. You'll probably just pick up some words, idioms, metaphors, etc. The question is which subtitle should you be using, native or target language?
There was a study published by Holger Mitterer (Max Planck Institute for Psycholinguistics) and James McQueen (MPI and Radboud University Nijmegen) that shows students who learn a foreign language with subtitles on (the target language) shows improvement whereas having the native subtitles on doesn't do much help.
Here's another study called Watching Subtitled Films Can Help Learning Foreign Languages by J. Birulés-Muntané and S. Soto-Faraco.
Some language apps out there don't have the words you usually use in your daily lives or one that explains your occupation, situations, etc. With movies or series perhaps you can so when you study the conversations they might come naturally when you use them.
Benefits Of Using Native Subtitles
The general benefit is you get to enjoy them without having to guess what on earth are they talking about. Some people might say having it on can be a distraction because you'll focus on the subs rather than watching. At first, yes but slowly you'll get used to it.
Another obvious benefit is you get to increase your vocabulary, improve your pronunciation and listening skills. You'll find yourself saying 'oh, so that's what it means' a lot.
The reason why I mention the last two is because it's using original audio, not dubbing and the speech speed reflects how people would normally say it. Learning new words, phrases, slang, etc this way is great because some of them you won't even find in textbooks.
This is one of my favorite methods because frankly, this is how I polish my intonation and pronunciation when I was learning English, not podcasts and not radio.
I know it can be a bit tiring having to pause and play endlessly to practice, but if the result is achieved at the end of the day, don't you think it's worth it?
Benefits Of Using The Target Language Subtitles
You get to know the spelling of the words and how they are pronounced. You also get to improve your reading speed. When you read you need to understand them fast so this indirectly improves your understanding skill as well. It can be overwhelming for newbies so this is not recommended but for others, this is really valuable.
Benefit Of Turning Off The Subtitles
You can fully focus on listening and understanding the dialogues. I call this an absolute immersion. You can do this only when you're confident of your ability to comprehend.
Foreign Language Subtitles Or Native Language Subtitles
Videos In Spanish With English Subtitles
I admit this has been my preference for as long as I can remember. It's easy because they are already in a language that I understand. I do rely heavily on it for certain dialogues or scenes I find difficult to comprehend. If it's the opposite I just ignore it completely.
The disadvantage is that there are many ways to say the same thing and sometimes a literal translation works and vice versa. This can be confusing. Perhaps what you see on TV there could be an easier way to say it.
When you've been watching lots of videos remember to note this down. Later on, just pick the one you feel easier to say depending on what situation and how often people use it.
Videos In Spanish With Spanish Subtitles
I've done this once. What I realize was doing it this way can be a great practice for your mental exercise. When I came across words I vaguely remember I found myself wracking my brain to find out the meaning and I won't hit play until I figure out. It was exhausting but I was happy.
Another thing I like about it is you get to know how they sound when natives say it slowly, normally, and fast. The thing with Spanish is you don't know where the commas and full stops are when they speak freaking fast. With this, you'll be able to.
If you want to test your comprehension skill, try this.
Videos In Spanish With English Dubbing and No Subtitles
I've also done this once and I'm never going to do it again. I'm not a fan of dubbing because I prefer to hear the original audio so I know the pronunciation and intonation of each word but decided to try it out anyway.
I hate it instantly because I was hearing two voices and they drove me nuts! I couldn't enjoy the series at all. It would be nice if they lowered the original audio or even better, mute it.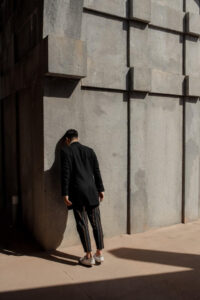 Does anybody find this way useful or helpful in any way?
How To Learn From Subtitles Step-By-Step
Start with your favorite genre. Choose something you don't mind replaying countless times. First, just enjoy them. Then, while watching write down the minutes and seconds of the scene(s) you want to use. When you finish do these;
Go back to the scenes you wrote down
Use a screen recorder to record them. Yes, it's a lot of works but it boils down to how badly you want to improve your learning.
Save the files for personal and future reference whenever you need to review them. Don't upload them everywhere on the internet. Beware of copyright infringement!
Focus on the audio and try to write down the subtitles in the target language. It doesn't have to be perfect. If the translation is already in your chosen language double check that with yours so you know what's missing, etc.
Pay attention to their accent, intonation, and pronunciation. Imitate them.
Record your own audio and send them to your language exchange partners for validation.
The above steps are a great exercise to train your ears, improve your writing and speaking skills.
If you intend to improve your listening and understanding skills, there you go. If it's to improve your writing well guess what you got it too as it involves writing down the translation. As you do this you'll probably notice some interesting words and grammar structures.
Back then, I used to write down words as I watch telenovelas. At some point, it did confuse me like she is saying amiga but he says amigo. What's happening?
You can dissect each scene and take note of the words, verbs, and grammar structures being used. Go to your grammar book or website(s) you use and find out what tense is being used in those dialogues.
If your intention is to improve your accent or pronunciation you have great resources in hand because these are authentic.
So, which one do you prefer between these two, and why; audio in the target language with native subs or dubbing in native language with target subs?