Last Updated: 19 Feb, 2021
A week ago, someone introduced me to an Italian language course asking me to review it which is what this post is about. Before I begin, I just want to let you know that I know nothing about the Italian language which is perfect because I'll be able to know how effective this course is from a beginner's point of view.
Please note that I'll be reviewing only the first 15 lessons. Towards the end, you'll find out if Ripeti Con Me worth it or not.
It's an Italian audio-based course focusing solely on the conversation aspect and crafted with the principle of spaced repetition in mind. The first 15 lessons were launched in early 2018 by Stefano Lodola, a teacher who speaks 12 languages.
"My course is an improved version of what used to be an audio course, now turned into an app, called Glossika" – Stefano Lodola
As of now, there are 215 lessons available, and more new lessons will be added in the future. So far, it has quite a lot of positive reviews from students. I'll be giving my own rating at the very end of this post.
The target audience of this course is beginner up to advanced learners.
This is perfect for you if you're on any of that level. Each feature has its own benefit. You'll find out what they are in the booklet. Here's what you'll get during this course.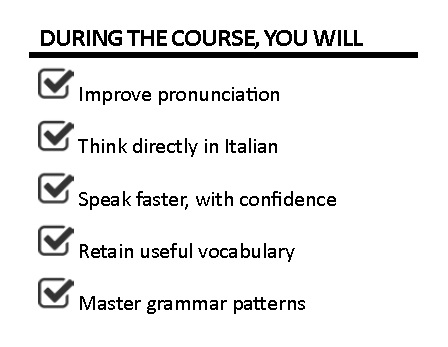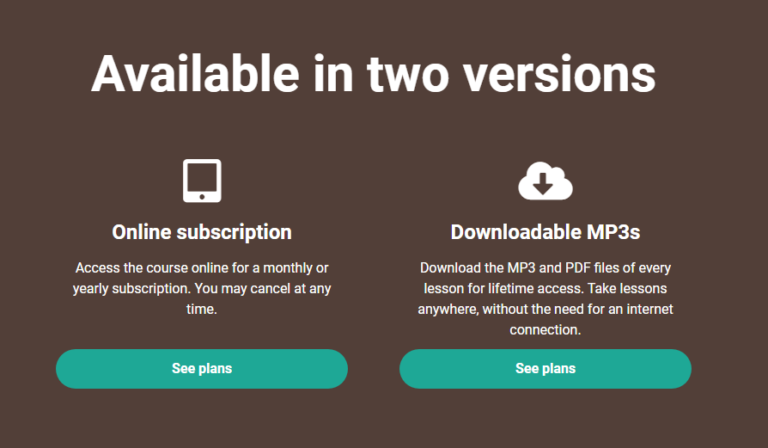 Ripeti con Me is available in 2 versions; Online Subscription and Downloadable MP3s. Both have the same content. It's only a matter of whether you want to access it online for a certain period of time or keep it forever.
This review is based on the latter. You can find the price for the Online Subscription in the price section below.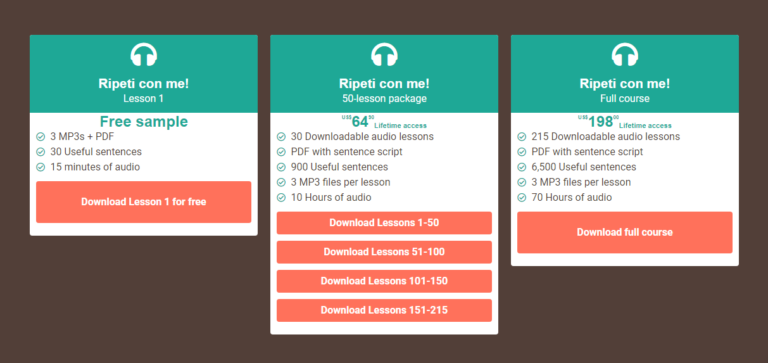 Each downloadable MP3s has its own price as shown in the image above. Since you get to keep them the price is a bit expensive than the other.
Upon buying the course you'll receive two PDF booklets along with the audio files. You can check the intro PDF to see the complete guide and tips on how to use the course. The other booklet is the written English and Italian sentences of the audio.
You'll also get these complimentary resources for free;
– Grammar notes
– Study tips
– Online tests
– Study planner
– Wordlists
Ripeti Con Me has 215 lessons and each has 3 files/ parts named A, B, and C. Combining these parts together it will last approximately 30 minutes as stated on the website. However, since I'm a very detailed person it takes me about an hour to finish them.
There are 30 sentences in all part A's file. The same 30 sentences will be used again in the other 2 parts. Here's the sample from the 1st lesson. You can find more on its website.
Below is the breakdown of how all the parts work.
Part A – First, he will say the sentence in English once and in Italian twice. You just have to listen.
Part B – First, he will say the sentence in English once. Then, there will be a pause for you to say the translation of it in Italian. After that, he will say the sentence in Italian once. All you have to do is follow along as he says it in Italian.
Part C – He will say the sentence in Italian once. As recommended by Stefano, you have to shadow him while he is still saying the sentence.
Apart from offering a 7-day trial (no credit card needed), it also offers a monthly ($18.90) and a yearly price ($189). If you purchase the yearly subscription you'll get 2 months free.
Below are what you'll get for both subscriptions;
– 215 audio lessons
– 70 hours of audio
– Ask questions directly to Stefano
I like that he incorporates basic grammar in the sentence naturally. He bolded them so we know which one. As I begin to focus on that I started to understand the structure of the sentence and frankly speaking, it does make learning a bit easier.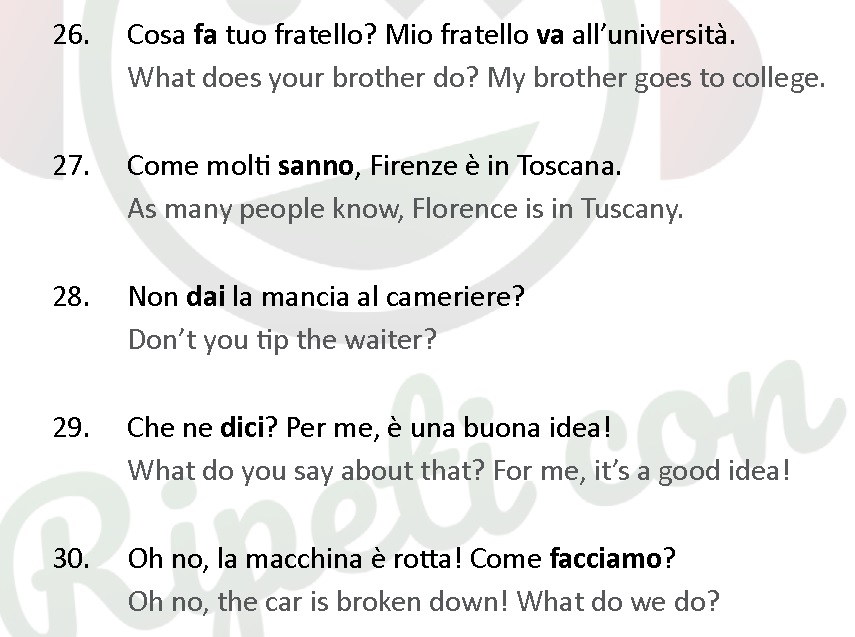 There are some similarities in terms of words and grammar to Spanish (which I'm currently learning) and it really helps a lot to understand Italian a little bit.
I'm going to quote what he wrote in the intro booklet regarding the grammar as I think that's another one of the reasons why it's effective, at least to me.
"Sentence patterns follow a plan shared by the most popular textbooks."
He uses 1,000 most frequent words and since I already know the structure it's only a matter of changing the word. This really helps me narrow down the vocabulary to only those that I most likely use in my daily life rather than a totally random one. Even Benny, the Irish polyglot gives the same advice.
The spaced repetition method he implemented is great. It helps to strengthen the memory as our mind starts to forget. For those who don't know what I'm talking about, it's a bit similar to Memrise.
I don't know if Italian people speak this slow but the speed is perfect to me, so no complaints in that area.
It highly emphasizes listening and repeating so you can speak from day 1 no matter how sloppy yours is.
There's a grammar section and grammar exercise on his website ranging from beginner to advanced if you're looking to learn more in that area.
When you finish the lessons you can take an online test to see if you really understood them. However, it only consists of multiple-choice questions. No listening or speaking test.
If he willing to go the extra mile and add words of motivation at the end of each lesson I believe we as learners would really appreciate the effort. Who doesn't need that, right? We all know the learning process isn't short-term, so having a bit of motivational and encouraging words wouldn't hurt.
If that sounds difficult, a brief explanation of the intonation would be a great addition. As a matter of fact, getting that right is as important as speaking skills.
While the bolded grammar is a good strategy, it might distract the learner trying to figure out why this ends in o and that ends in a, e, i, etc. It would be much better if he can write a simple little note on the PDF about that.
There are grammar notes for every lesson. The two parts are linked in the online version. The grammar notes are free and available also to those who downloaded the MP3s. They're not together because I want people to listen to the sentences before reading the notes. – Stefano Lodola
For file B, he could use a beep that indicates when the learner should start replying to the question. Because for some long sentences I got cut by him when I haven't finished saying it. The timing needs to be fixed.
That's normal. Some people make it and some need more time. You can always adjust playback speed. – Stefano Lodola
As for file C, he says the goal is to shadow him while he is still saying the sentence. That indirectly means we have to memorize all their orders. We can't remember what the 5th, 10th, etc sentences are until he starts saying it.
No. You can shadow just by hearing the beginning of the sentence. There's no need to start before that. – Stefano Lodola
I think he can replace those with probably a better one where people can record themselves speaking the sentence then compare it with his.
There are no images. The former is important to strengthen furthermore of the learner's understanding. The same goes for the latter. Visuals definitely help us learn and memorize better. Based on this reason only I can't help but compare it with Pimsleur.
"Words are abstract and rather difficult for the brain to retain, whereas visuals are concrete and, as such, more easily remembered." – psychologytoday.com
It keeps using the US and Europe as examples. Why not diversify the country and nationality? How about Asia? Latin America?
I try to keep content relevant to Italian learners. It's more likely that they're interested in Europe than Africa. Anyway, I do use some Asian countries. – Stefano Lodola
I don't know if he will start adding those in the next lessons but I believe he can balance them out. This is one of the problems with some language courses out there. They always limit these two (the same thing with fruits and animals) and I have yet to understand why.
All in all, I can honestly say it's worth it and I give this course 4 stars. Yes, there are a few improvements needed to be done but it's indeed a good audio course.
I recommend you to try Ripeti Con Me for all the reasons I stated above. However, I wouldn't recommend relying on this alone to improve your skills. You can certainly add it as one of your methods and supplement it with the others.
I would like to thank Stefano for introducing his course to me. Now, I can add Italian to the list of languages I want to pursue in the future.
Have any of you experienced using this course? How did it go? Do you agree or disagree with my opinions? You're welcome to share your feedback in the comment section below.